Exhibitor Registration

Join Us For The National Coalition's
43rd Annual Convention and Trade Show
July 23-26, 2018
Trade Show: July 25-26, 2018
Gaylord Palms Resort & Convention Center
Orlando, Florida

Reach the Largest C-Store Buying Group in the Country!
Sign up for the perfect opportunity to get your company and your latest products in front of the largest c-store buying group in the country: 7-Eleven franchisees! Become an exhibitor at the two-day trade show, or gain more visibility throughout the four-day event by becoming a Major Sponsor! Our annual convention and trade show attracts 7-Eleven store owners from across the country in one venue, providing you with a unique opportunity to directly interact, network and sell to them. If you sign up for the convention preceding the trade show you will gain the full benefits of participation with more elbow-rubbing opportunities!
Bring Plenty Of Order Forms!
Last year's trade show was highly successful for our exhibiting vendors and our franchisees, already the convenience store industry's #1 buying group! Franchisees will be ready to buy at this year's show, which promises to be bigger and better than ever. So bring your best-selling products and special deals, and be ready to make an impression!
A Selling Environment Built for Success
This year's convention and trade show will be held at the beautiful Gaylord Palms Resort & Convention Center in Kissimmee, Florida, with 400,000 square feet of impressive meeting space. The exhibition hall features 20-foot hallways for easy load in/out, dedicated loading docks and fast internet connections.
What's more, Gaylord Palms is situated just minutes from Walt Disney World® and Universal Orlando Resort™, so you can start your stay in the soaring glass atrium showcasing the landscape of the Everglades, the cobblestone streets and rich history of St. Augustine, and the picturesque scenery and vibrant colors of Key West. Enjoy a day with your children at the water park, or savor some time to yourself at the adult-only pool. Gaylord Palms also offers a full-service spa, perfect for pursuing a pampering session. Continue the fun as you delight your taste buds with the finest cuisine from any of the nine restaurants.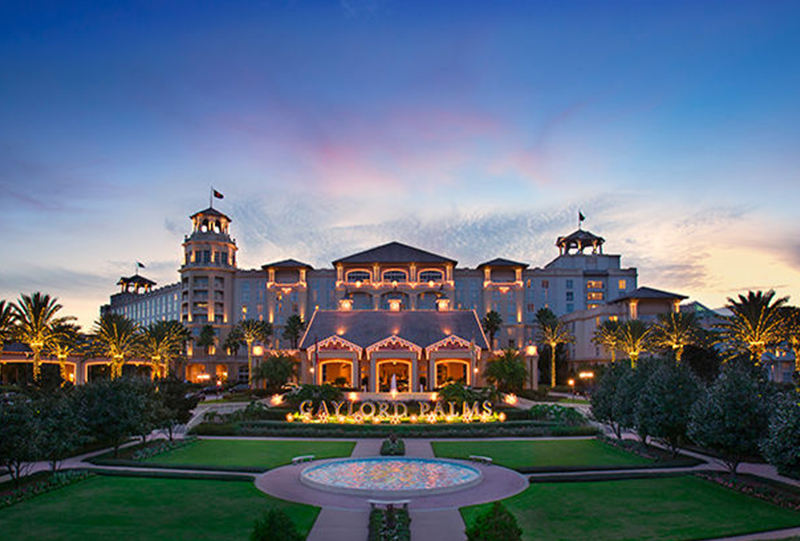 Online Hotel Reservations
Gaylord Palms Resort & Convention Center
6000 W Osceola Pkwy, Kissimmee, FL 34746

Convention Room Rates: (listed prices do not include taxes and fees)
• Vendor room rate is $159 plus resort fee and tax
Call in reservation number is 877-491-0442

Exhibit Show Hours
Wednesday, July 25, 11:00 a.m. – 4:00 p.m.
Thursday, July 26, 11:00 a.m. – 4:00 p.m.
Reservations For Exhibit Space
Please complete booth and staff registration by June 25, 2018. All orders for booth space are date-stamped and will be assigned on a first-come, first-served basis. Booth registrations received by this date will be included in the Exhibitor's List and Schedule of Events. After this date staff must register on-site at Gaylord Palms.
Set-Up and Dismantling Schedule
Exhibits can be installed from 8:00 a.m. to 5:00 p.m., Tuesday, July 24, and from 8:00 a.m. to 10:00 am on Wednesday, July 25. All exhibit materials must be removed from the Gaylord Palms trade show area immediately following the show on Thursday, July 26. All shipments must be prepaid.
Exhibitor Service Manual
An Exhibitor Service Manual with order forms for furniture, decorations, photography, electrical, labor, and shipping instructions will be provided by Freeman Decorating, Inc. upon receipt of your booth registration.

Exhibitor Booth And Staff Registration
Booth dimensions: 8′ x 10′
Space rental for 8′ x 10′ booth: $5,000 per booth.
Vendors purchasing trade show booths are entitled trade-show only access. Full individual registrations must be purchased.
Exhibitors must register ALL personnel who will be present at the convention. Full vendor registrations beyond those earned through sponsorship are $250 each. Trade-show-only staff are free, but must register and have a badge.
Full vendor registrations include access to all sessions (except franchisee only), all breakfasts, Monday night cocktail party, Wednesday dinner and entertainment, and Thursday cocktail reception, grand banquet and entertainment.

Looking for even more opportunities to make a big impression with franchisees? Consider becoming a major sponsor, for increased visibility throughout the show.