Vendor Affiliate Members
The National Coalition of Associations of 7-Eleven Franchisees Affiliate Member Program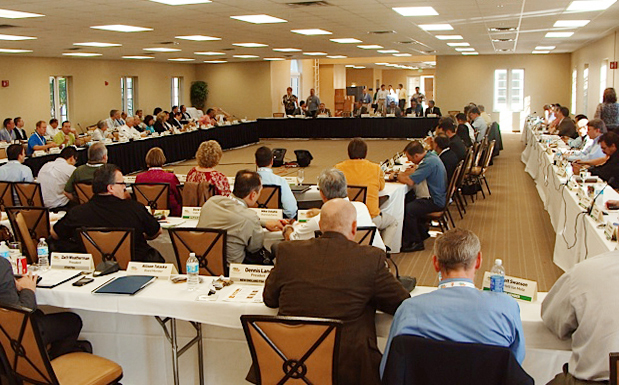 The National Coalition's Affiliate Member Program is designed for vendors who have a very high level of interest in selling to 7-Eleven franchisees.
The Affiliate Program consists of two meetings per year—one in Spring, and one in Fall—where vendor representatives have the opportunity to meet face-to-face with the National Coalition's Board of Directors.  The Board consists of two representatives, a president and a vice president, from each of the Coalition's 41 regional Franchise Owners Associations across the country. Each FOA represents between 15 and 400 franchisee members.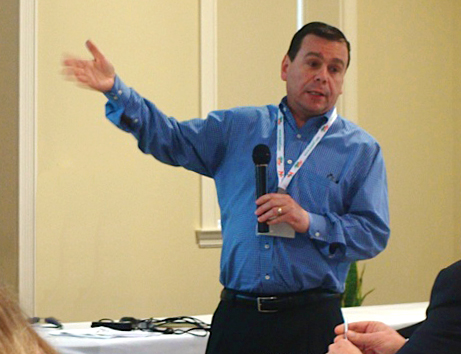 Each meeting typically lasts 1-1/2 days, and consists of presentations from the franchise community, industry executives and/or the 7-Eleven corporate staff, plus roundtable discussions, breakout sessions, and group social events that provide time for one-on-one networking.
In addition to two meetings per year, Affiliate Members receive the National Officer's List and the National Coalition Board of Director's List, complete with contact names and information for each of the National Coalition's 41 Franchise Owners Association members.
Affiliate Program activities provide an excellent opportunity for vendors to network and form new relationships with FOA officers from around the country.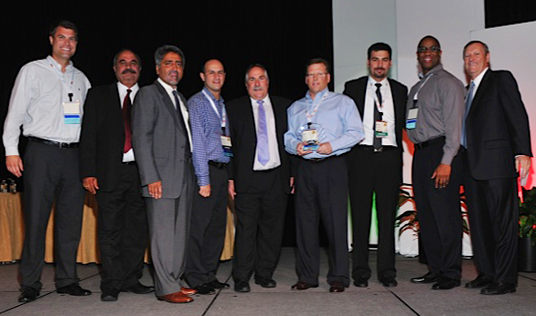 Affiliate Member Program Activities/Benefits
Two informative, interactive meetings per year with the National Coalition Board.
Informative presentations on issues affecting 7-Eleven franchisees and the 7-Eleven system.
Opportunities for interaction and one-on-one networking with franchisee leaders.
Access to the National Coalition's FOA Member List, complete with contact information for 41 regional FOA Presidents and Vice Presidents.
Opportunity to sponsor and present at National Coalition Board meetings four times per year.
Free listing 1x per year in Avanti Magazine.
Annual membership fee is $1,500.
Click here to download an application for Affiliate Program Membership that can be filled out digitally and returned via e-mail, fax or the U.S. Postal Service.
Affiliate Members
5-Hour Energy • Acosta Sales & Mktg • Advantage Sales & Mktg • Altria Group Dist. • American Foods Group, LLC • Anheuser-Busch • Anheuser-Busch, Inc. • Anonymous Consulting & Sales LLC • Aon Risk Services • Apter Industries, Inc • Argo Tea • Ballantyne Brands-Mistic E-Cigs • Barbot Insurance Services • Bazooka Candy Brands/The Topps Co., Inc • Bdirect • Bic Consumer Products • Bill.com • Blue Bunny Ice Cream Co. • Bolthouse Farms • Bon Appetit • Borden Dairy Company • Brollytime Inc. • Bytox, Inc • CROSSMARK Convenience • California Accessories • Campbell's North America • Capitol Cups, Inc • CareerBuilder • Charms Company • Coca-Cola Refreshments • Cold Star, Inc • Comcast Business Services • Commonwealth-Altadis • ConAgra Foods • Convenience Valet • Cooper Tea Company • Crown Imports LLC • Dae Yang Industrial Co., Inc dba Power of EV • Dean Foods • Diageo - Guinness USA • Diageo - Smirnoff Ice • Don Miguel Mexican Foods • Don Miguel Mexican Foods, Inc. • Dr Pepper Snapple Group • Euro American Brands • FIN Branding Group • FM Facility Maintenance • FUMA International, LLC • Ferrero USA, Inc. • Forward Foods, LLC/Detour Bars • Frito Lay, Inc. • Frito Lay, Inc. / PepsiCo • General Mills, Inc. • Green Smart Living • Haribo of America, Inc • Heineken USA • Heinz North America • Impact Sales & Marketing • In-Zone Brands, Inc. • Insight Beverages, Inc. • InterExchange, Inc • Inventure Foods • JFC International, Inc. • Jack Link's Beef Jerky • JoJo's Jerky • Johnson & Johnson • Johnsonville Sausage • Just Born, Inc. • Kan Pak • Kellogg's • Kind Healthy Snacks • Kraft Foods Group, Inc. • Kretek International • LOWRIDER Sunglasses • Larry Flynt Publications (LFP) • LegalShield • Liggett Vector Brands Inc. • Lockton Companies, LLC • Logic Technology Dev. LLC • MARS Chocolate • MARS Chocolate, Ice Cream & Wrigley's • MONSTER Energy Company • Malt-O-Meal Co. • McLane Company Inc. • MillerCoors Brewing • MillerCoors Brewing Co. • Modern Technology • Mondelez International • Monster • Morris National, Inc • Mother Parkers Tea & Coffee • NACS-The Assoc. For Convenience & Fuel Retailing • NRG Innovations, LLC • Nat Sherman, Inc • National Tobacco Company • Necco/New England Confectionary • Nestle DSD/Dreyers • Nestle Professional • Nestle Purina PetCare • Nestle USA Snacks & Confections • Nestle Waters NA • Nutrex Research, Inc • Oberto Brands • Ocean Spray Cranberries, Inc. • PATCO Food Safety Consultants • Pabst Brewing Co. • Patco Management, Inc. • PepsiCo, Inc. • PepsiCo/QTG • Perfetti Van Melle USA • Perky Jerky • Pinnacle Food Products, Inc. • Popcorn Indiana • Precise Nutrition Int'l, Inc. • Prime Time International Co. • Procter & Gamble • Promotion in Motion, Inc. • Pugs, Inc • Pugs, Inc. • RJ Reynolds Tobacco Co. • Red Bull North America • Reddy Ice • Rich Products Corp. • Ruiz Foods • Ruiz Foods Inc. • SBI Brands • Sahale Snacks, Inc. • Santa Fe Natural Tobacco Co. • Sargento Foods, Inc. • Schwan's • Shamrock Farms • Simply Juices/Coca Cola Refreshments • Smokey Mountain Snuff, Inc • Snyder's Lance Inc. • Spike, LLC • SportsLine Distributors • Sprint • Sugardale Foodservice • Sunny Delight Beverages • Swedish Match North America • Swisher International • TSN West, LLC • The Boston Beer Company • The Hershey Company • Time Warner Cable Business Class • Tootsie Roll Industries, LLC • Twang Partners, LTD • US Nutrition - Met RX • USA Today aka Gannett Nat'l Shared Svc Ctr • Unilever Ice Cream • United Brands - JOOSE Beverage • Unreal Brands Inc. • Welch's • West Coast Chill, Inc • WhiteWave Foods • Windsor Foods • Wrigley Sales Co.