September 23, 2019
7-Eleven franchise leaders to meet with Japanese franchisees in Tokyo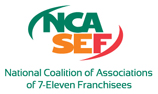 FOR IMMEDIATE RELEASE
San Antonio, TX, Sept. 23, 2019 – Members of the executive board of the National Coalition of Associations of 7-Eleven Franchisees (NCASEF) are in Tokyo for a series of meetings with Japanese franchise owners, who are pressing for a change to the 24/7 convenience store culture as they face shrinking profits and corporate leadership that has demonstrated an unwillingness to engage in substantive communication.
"Our association has maintained communication with several leading Japanese franchisees over the past couple of years and they invited us to Tokyo so we can share information and ideas. 7-Eleven operators in the U.S. are struggling with many of the same issues," said Executive Vice Chairman Michael Jorgensen, who is joined by Vice Chairman Rehan Hashmi and Treasurer Jaspreet Dhillon. "Like us, they love the brand but are frustrated with their situation."
A desperate labor shortage in Japan has put franchisees at odds with 7-Eleven's parent company, Seven & i Holdings, which is headquartered in Tokyo. Beyond the issue of 24/7 operations, Japanese franchisees are exceedingly concerned about the losses they face from food waste connected to 7-Eleven's emphasis on fresh food and hot food. These products tend to have higher gross margins, but carry materially higher labor costs and create losses when franchisees bear the cost of food disposal.
"We know that encroachment is also a major problem in Japan," said Hashmi, a Chicago franchisee. "Japan's convenience store market is saturated. Franchisees face growing competition for sales – sometimes from other 7-Eleven franchisees who have been sold a store in close proximity to another. Franchisees have complained about the practice but tell us the company has been ignoring them."
7-Eleven is the top convenience store chain in Japan with over 21,000 stores; the company posted record profits this year.
Earlier this year, Australia's Parliamentary Joint Committee called for an overhaul of the franchise sector, citing in a landmark 369-page report how an unbalanced regulatory framework, has "manifestly failed to deter systemic poor conduct and exploitative [behavior] by franchisors." The Japan Fair Trade Commission launched an investigation into the country's convenience store industry focusing in part on whether the 24/7 operating model and other restrictions are putting some franchisees at a disadvantage.
In a letter to the Fair Trade Commission's chairman, NCASEF General Counsel Eric Karp said, "[The] experience and treatment of 7-Eleven franchisees in Japan closely mirrors the challenges faced by7-Eleven franchisees in the United States," pointing out "there is a substantial disparity in economic and legal power between franchisors and franchisees."
"By strengthening our alliance with Japanese franchisees, we are sending a message to 7-Eleven that they can't ignore us," said Dhillon, a Los Angeles franchisee. "At the end of the day, we want the same thing. We want the 7-Eleven brand to be successful and we want to be personally successful. We need to work together to make that happen."
Media Contact:
Matt Ellis
matt@ellisstrategies.com | 617-278-6560
About the NCASEF: The National Coalition of Associations of 7-Eleven Franchisees is the national trade association for 7-Eleven franchise owners. Originally founded in 1973, NCASEF is an elected, independent body comprised of 41 Franchise Association members who represent more than 4,400 7-Eleven owners in the U.S.
###