February 1, 2021
Trust Is The Coin Of The Realm
Eric H. Karp, Esq., General Counsel TO NCASEF
As I write this, the country mourns the recent passing of George P. Schultz at the age of 100. A member of what has often been called the Greatest Generation, he served in combat as a United States Marine in the South Pacific during World War II, following which he earned a PhD in industrial economics from the Massachusetts Institute of Technology. He later became Dean of the University of Chicago Graduate School of Business and then served as Secretary of Labor, followed by a stint as the first Director of the Office of Management and Budget, both under President Richard Nixon. He then returned to the corporate world, rising to the presidency of Bechtel, the largest American engineering, procurement, construction, and project management company. Then, from 1982 to 1989 he was Secretary of State under President Ronald Reagan. Mr. Shultz later served as an informal adviser to President George W. Bush and served on a number of high-level government and corporate boards.
His varied and storied career, heavily dominated by public service, brought him into close contact with a wide array of corporate, political and foreign leaders. On the occasion of his hundredth birthday on December 13, 2020, he published a thoughtful essay in an attempt to distill the essential lessons he learned along the way. The title of the essay is "Trust is the Coin of the Realm" and you can read it for yourself at https://www.hoover.org/research/trust-coin-realm.
George Schultz summarizes his century long experience as follows: "When trust was in the room, whatever room that was—the family room, the schoolroom, the coach's room, the office room, the government room, or the military room—good things happened. When trust was not in the room, good things did not happen. Everything else is details."
What Mr. Schultz appears to be telling us is that there are three essential aspects of trust. First, it is essential in any relationship, necessarily including the one between a franchisor and its franchisees. Second, trust is earned, and cannot be purchased, awarded or conferred. And third, it costs absolutely nothing.
It is no secret that the current relationship between SEI and its franchise community is at its lowest ebb in decades. In this column, I will not debate or assess responsibility for that circumstance. What is very clear is that this toxic relationship is marked by a conspicuous absence of trust on both sides. In a 2018 survey of franchisees conducted through SurveyMonkey, only 13 percent of franchisee respondents agreed with the statement, "7-Eleven has a positive relationship with its franchisees." Seventy-six percent of franchisee respondents disagreed (54 percent strongly disagreed and 22 percent somewhat disagreed).
The absence of trust was amply illustrated by the earlier comprehensive survey of franchisee opinion conducted by the National Coalition through Franchise Business Review, which we have previously written about in this space. Here are the salient findings from the survey:
Franchisee response to the statement "I trust 7-Eleven, Inc." was that 61 percent disagreed or strongly disagreed with the proposition. Only 20 percent strongly agreed or agreed.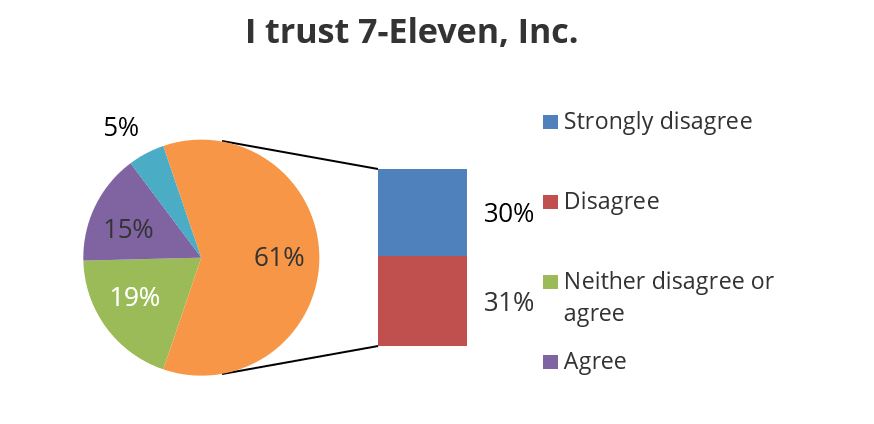 Franchisee response to the statement "7-Eleven trusts its franchisees" was that 75 percent disagreed or strongly disagreed with the proposition. Only 11 percent strongly agreed or agreed.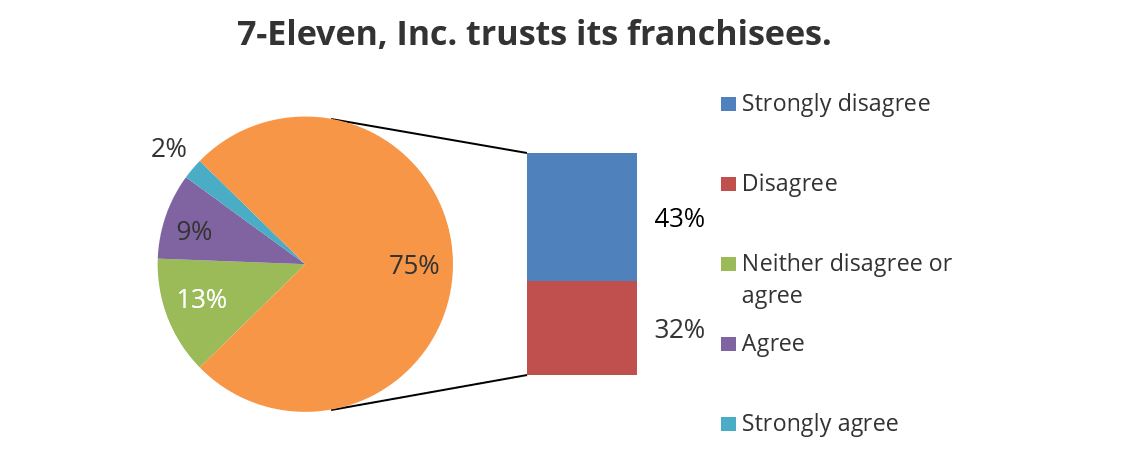 The longer the franchisee was in the system and the older the franchisee was, the less favorably they assessed the trust between the parties.
The more recent survey of franchisees conducted through SurveyMonkey served to confirm the earlier findings. More specifically, 76 percent of respondents disagreed with the statement "7-Eleven trust its franchisees," a virtually identical score to the 75 percent of respondents who disagreed with that statement three years earlier.
Other questions in the 2018 survey involved franchisee reactions to other questions which were related to the issues of trust, honesty, ethical conduct and related matters. Here is a summary of those survey results, which provide further confirmation of the embedded and seemingly intractable franchise relationship problem in the system.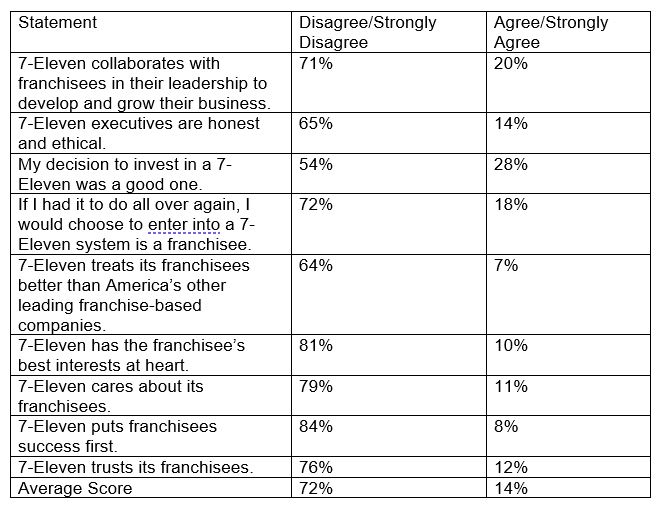 By way of contrast, Franchise Business Review is a national franchise market research firm that performs independent surveys of franchisee satisfaction and franchise buyer experiences. It benchmarks each of its surveys against all of the other surveys conducted each year. One of its 57 questions relates to how the franchisees in a given franchise system rate the trustworthiness of their franchisor. In stark contrast to the National Coalition survey results, Franchise Business Review, based on 29,416 survey responses, reported a highly favorable 81 percent score on a national basis. This is essentially the flipside of the findings with respect to SEI.
Mr. Shultz concludes his essay in part as follows: "'In God we trust.' Yes, and when we are at our best, also in one another. Trust is fundamental, reciprocal, and pervasive. If it is present, anything is possible. If it is absent, nothing is possible."
It is my hope that the passing of this great American patriot and public servant will galvanize all stakeholders in the 7-Eleven system to internalize his core message. George Shultz's message should serve as a simple but effective guide towards righting the ship of the 7-Eleven system and its relationship with its franchisees. Despite his passing, it is nowhere near too late to do so.