April 1, 2021
Playing Musical Chairs In A Tight Labor Market
By Michael Jorgensen, Executive Vice Chairman, NCASEF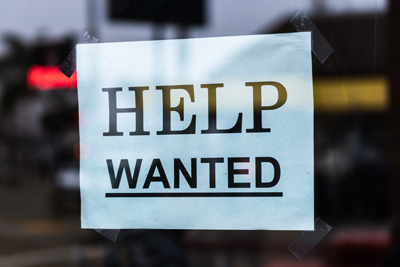 As SEI rolls out new programs and promotions to help attract new customers, franchisees are having a difficult time finding employees to meet the increased labor requirements of running our stores. But this isn't a new problem. It actually started in 2018, when there were more jobs available than people to fill them. The tight labor market was partly exacerbated by the Trump administration's immigration policies, which drained the well of workers that would normally take unskilled, entry-level positions.
Last year, we were hit with the pandemic and unemployment soared as small businesses and local restaurants shuttered for nearly two months under mandated shutdown orders to help curb the spread of COVID-19, and many never reopened. To help the jobless, the government started handing out weekly supplemental unemployment payments—first $600, and now $300. With these extra payments many of the unemployed, particularly those at the lower end of the pay scale, were—and in many instances still are—earning more than they did when they were working. The side effect of this situation is that the majority of the unemployed are not eager to go back to work, which is making the labor market even tighter.
This is especially hurting small business owners like 7-Eleven franchisees because now we can't find people to fill shifts in our stores. Although the labor pool is expected to grow once the unemployment stimulus is cut off, it appears we will end up playing a game of musical chairs with the bigger retailers because of our structure and what we can afford to pay new employees. Companies like Target and Walmart are paying premium wages to attract workers, but nothing has changed in our franchise agreement that would allow us to really compete for these employees, and SEI's expectations for how we should operate our stores hasn't changed.
This dilemma isn't unique to 7-Eleven, however. Small business owners all over the country are having trouble filling open positions. To give a couple of examples from recent news articles, a McDonald's franchisee in Florida is having so much difficulty finding workers that he's offering $50 to anyone who comes in for a job interview. And he's still not attracting many applicants! A restaurant owner in Toledo, Ohio needs a new cook and is offering a $1,000 retention bonus for the position if the person stays for six months. So far, no takers. The restaurant owner said some companies in his area are offering incentives and sign-on bonuses to attract employees and it's difficult to compete with them.
I was recently on a conference call organized by the Coalition of Franchisee Associations, and Dunkin' franchisees said they were closing their less profitable outlets and consolidating their people in more profitable locations as a way to deal with the labor shortage. The more profitable restaurants also happen to be the ones with drive-thrus. They've also turned off the pre-order feature on the Dunkin' app because they're just able to keep up with the walkup and drive-thru business that they have. Same with the Burger King franchisees. They say they're closing their dining rooms with the exception of lunch because they don't have enough employees to keep their dining rooms clean. I'm sure you all have noticed that some of our vendors—like Coke, Pepsi, CDC—have been consolidating their delivery routes because they don't have enough drivers to cover all the routes or even warehouse workers to fulfill the orders.
So the combination of very generous unemployment benefits and larger companies offering very attractive pay and sign on bonuses is making it nearly impossible for small business owners like us to find workers.
As per our contract, we're mandated to be open 24/7. Although, early on in the pandemic SEI relaxed that rule and allowed stores to close for a few hours every night. Very recently, however, the company informed all franchisees via an email from Doug Rosencrans, SVP Franchise Operations, "asking all stores to return to 24 hours a day, 7 days per week business operation. For those stores legally restricted from operating 24 hours, 7-Eleven will, by policy, continue the suspension of gross profit split modifications that are outlined in the Franchise Agreement." But if you don't have enough employees to fill those hours, what do you do? Meanwhile, SEI is raising the bar on expectations with new programs and promotions, and in many cases we can't hire the staff we need to meet these new expectations.
Sure, SEI does have the Hire Right tool that allows us to post our job openings on the internet and gets us referrals for positions. The company has even added a feature that publishes our Hire Right job postings to Indeed.com with an "Easy Apply" one-click button, and is boosting all of our job postings on Indeed.com via paid advertising for three months. But there has to be something else that helps attracts job seekers to our stores.
To make our stores more attractive to prospective employees, our rate of pay has to be significantly higher than what our competitors are offering because as a 24-hour business, we demand more of our associates. At Burger King, for instance, you're either a cashier or you're a fry cook. In a 7-Eleven, our employees are working the register, they're doing lottery, they're doing gas, getting deliveries ready for 7Now, sweeping the parking lot, keeping the bathrooms clean, cooking food, serving food, fronting and facing the shelves, and so on.
Which brings me to our other conundrum—any increase in employee pay directly affects franchisee net income, and increasing sales and volume typically comes with an increase in labor hours. One way to remedy this is to increase the retail prices inside the store, focusing much more on gross profit, but SEI discourages this.
Here is where our struggle is: SEI is making record profits on gas while franchisees get a set commission. Our direct competition—whether it's RaceTrac, Wawa, Sheetz, Maverick, you name them—are all making very close to the same amount on gas, and whether its 35 cents per gallon profit or 18 cents a gallon, 7-Eleven franchisees get a flat penny and a half per gallon. SEI believes that our customers are very sensitive to the prices of the products in our stores, some more than others, so SEI wants to manage the retail prices in order to move more volume in the store and hopefully grow customer counts, and more vehicles at the pumps. More volume and increased customer counts is crucial to our long-term success, but as mentioned earlier, it also means more labor and the expense that comes with it.
This equation doesn't work for franchisees because the gross profits in the store are not keeping pace with the rising cost of the labor. This is not the same situation at the gas pump, where once those pumps are installed, there are certain fixed costs and there are certain costs that grow with your volume, like credit cards fees. Yes, gas pumps and facilities need to be maintained and replaced and this is a large investment, but this happens over time and can be planned. Our gross profit split model, which has been our competitive advantage, now becomes a weakness. It allows room for our competitors to attempt to take market share from us because we operate our stores on a labor model, and we will have to increase our labor, which means we're going to have to increase our retail prices. So that may force our customers to go somewhere else.
To prevent this, of course SEI is going to try their best to suppress custom retail pricing inside the store, which is something franchisees need in order to pay wages that will attract employees. Our c-store competitors don't have to raise their retail prices to the same degree in order to meet labor costs because they make that up through gas gross profit.
The only way for SEI to make it right is to realize that they have to modify the Agreement to correct the current imbalance that exists. One option is to allow stores to close for a few hours every night when it is not profitable or the stores do not have enough staff to have them open 24 hours. Then these stores can reallocate some of that labor from the overnight to their other shifts. This would eliminate a lot of stress for us, but unfortunately we can't do that because of our contract, which calls for an increase in our 7-Eleven Charge if we reduce hours.
Right now, the labor shortage is affecting every retail business. Once the unemployment stimulus ends and more people re-enter the job market, we will be competing with retailers big and small, and it will become a shark frenzy. If we can't match or beat the pay rates offered by our competitors, we may find ourselves sitting on the floor while they occupy all the chairs.