June 1, 2021
All In On Gasoline: Chapter 4 | 7-Eleven Closes The Speedway Deal
By Eric H. Karp, ESQ., General Counsel To NCASEF
"We have reason to believe that this transaction is illegal…"
"…which transaction … we have reason to believe violate(s) the antitrust laws."
Three momentous things happened on May 14, 2021. First, SEI closed its $21 billion purchase of approximately 3,800 Speedway stores in 36 states without first having clearance from the United States Federal Trade Commission (FTC). Second, the FTC, evenly divided with two members appointed by a Democratic president and two by a Republican president, saw dueling statements issued by the two camps, each blaming the other for the failure to address the anti-competitive aspects of the transaction.
But this disagreement has caused many observers to overlook a commonality of the positions of the Republican and Democratic appointed commissioners. The first quote above is from the public statement issued by Commissioners Rebecca Kelly Slaughter and Rohit Chopra (the Democratically appointed commissioners) and the second quote is from the public statement issued by Commissioners Christine S. Wilson and Noah Joshua Phillips (the Republican appointed commissioners). Third, SEI issued its own public statement, stating that it had negotiated an agreement with FTC staff to divest itself of 293 stores, to address anti-competitive concerns. But this negotiated agreement never received majority approval from the FTC.
Commissioners Slaughter and Chopra were particularly critical, stating that the transaction "… could impact competition and cause prices to soar at gas stations and convenience stores across the U.S." Commissioners Wilson and Phillips stated that as a result of the failure to reach an agreement concerning a remedy "… consumers and businesses both lost."
An article published on Law360.com summarizes the situation by stating that both sides were equally critical of the merger, calling it anticompetitive because of hundreds of potential gas station and convenience store overlaps. Additionally, an article published by the National Law Review characterizes SEI's decision to close the transaction without FTC approval as unusual given that merger parties "… normally wait for resolution with the antitrust authorities before completing their transaction." The author cites SEI's $3.3 billion acquisition of retail fuel stations from Sunoco in 2018, which was closed only after a consent agreement had been reached with the FTC.
Commissioners Slaughter and Chopra labeled the decision to close without a resolution from the FTC highly unusual and extremely troubling. They warned that the parties have closed their transition "at their own risk" and that the FTC will continue to investigate to determine an appropriate path forward.
SEI's strategy has been the subject of some speculation. Some might call it bold, others might call it calculating, and still others might call it arrogant. SEI is banking on the notion that it is more difficult to undo a merger than to block one, and with a Democratic president and both houses of Congress controlled by the Democratic Party, it is only a matter of time before the FTC has a three to two Democratic majority. Indeed, the President's nominee has a significant background in antitrust matters and has argued for a more robust enforcement policy. But since Commissioner Chopra has been nominated to head a different agency, it may take two appointments by this Democratic administration to secure a three to two majority. This delay helps SEI, by reducing the risk of enforcement actions by the FTC.
While this review of what some might call 'inside baseball' is useful and instructive, the logical question is why should the National Coalition and their constituent franchisees care about this transaction? To answer, we will review data retrieved from publicly available sources, some of which was submitted to the FTC at its invitation.
In May of 2016, I observed to the Board of the National Coalition that in light of the acquisitions of gasoline assets by SEI, 7-Eleven was rapidly becoming as much a gasoline company as it was a convenience store company. In December 2010 there was the acquisition of 183 properties from Exxon Mobil Corporation in Florida, followed by entry into the wholesale fuel business with the 2012 acquisition of the assets of TETCO. The next year saw the acquisition of 145 stores and wholesale fuel dealer business through multiple transactions for just under $150 million. In November 2015, SEI announced the acquisition of retail sites in Florida. We also reported that despite a decline in gasoline revenue from 2013 to 2015, gasoline gross margin dollars nevertheless grew over those three years. Gasoline gross margin at the corporate level in 2015 was nearly double what it had been just five years earlier. I predicted that SEI would continue to purchase gasoline assets; and I take no pleasure reflecting on the accuracy of that observation.
Our concern about the Speedway transaction was first driven by concerns about the history of pricing at the pump and the power that SEI would have to control the retail market. As was the case with the Sunoco stores purchased by SEI, Speedway stores sell more gasoline on average than do existing 7-Eleven stores. According to Goldman Sachs, gasoline sales account for 77 percent of Speedway's total sales, compared with 20 percent for SEI.
According to S&P Global, the acquisition will increase 7-Eleven's market share to 8.5 percent from 5.9 percent, raising the contribution of fuel to its gross profit mix to 30 percent from 20.1 percent. The Speedway acquisition will increase 7-Eleven's footprint to 47 of the 50 most populated metro areas in the U.S.
According to information gleaned from the securities filings of Seven & i Holdings, as of September 30, 2020, 47 percent of all SEI stores in the United States had gasoline stations, up from 39 percent as of June 30, 2017. These numbers do not include the Speedway acquisition, which will push the gasoline segment to about 62 percent of all locations. And SEI's market power is augmented by its active wholesale gasoline business.
Indeed, as far back as 2018 Seven & i, in its Consolidated Financial Results Presentation for the Second Quarter of FY 2018, available at http://www.7andi.com/en/ir/library/index.html, summarizes SEI's results of operation by stating: "Higher income due to mainly brisk sales of gasoline, despite deterioration in merchandise GPM." Historically, SEI's audited financial statements report that the gross profit margin from gasoline rose from 5.53 percent in 2012 to 9.45 percent in 2017. In 2020, SEI reported gross profit of $2.16 billion from the sale of gasoline.
These increases in gas gross profit are driven by pricing at the pump. Franchisees receive a fixed commission of 1.5 cents per gallon, but SEI reserves total discretion to set the retail price and retain the profit derived. This gives SEI the incentive to set prices in a fashion that disadvantages consumers and franchisees. The higher the price, the more SEI books in profit; franchisees receive lower commissions and experience reduced numbers of consumers entering the store to make other purchases.
Furthermore, because franchisees do not share in the profit derived from gasoline sales, and because of their interest in selling gas at competitive prices, their interests are perfectly aligned with their customers. This is why at least two of the commissioners were deeply concerned that the additional market power that SEI will acquire through the Speedway transaction will give it even greater ability to cause "prices to soar."
At the outset of the pandemic, SEI warned its franchisees against price gouging. But as the pandemic unfolded, SEI was confronted with declining merchandise sales and gasoline sales. SEI substantially increased its retail cents per gallon, which had the effect of allowing it to actually increase its profitability overall in the context of the worst challenge to the U.S. economy in a generation. SEI retail cents per gallon in 2020 was 76 percent higher than it had been in 2015 and 45 percent higher than it had been in a pre-pandemic 2019.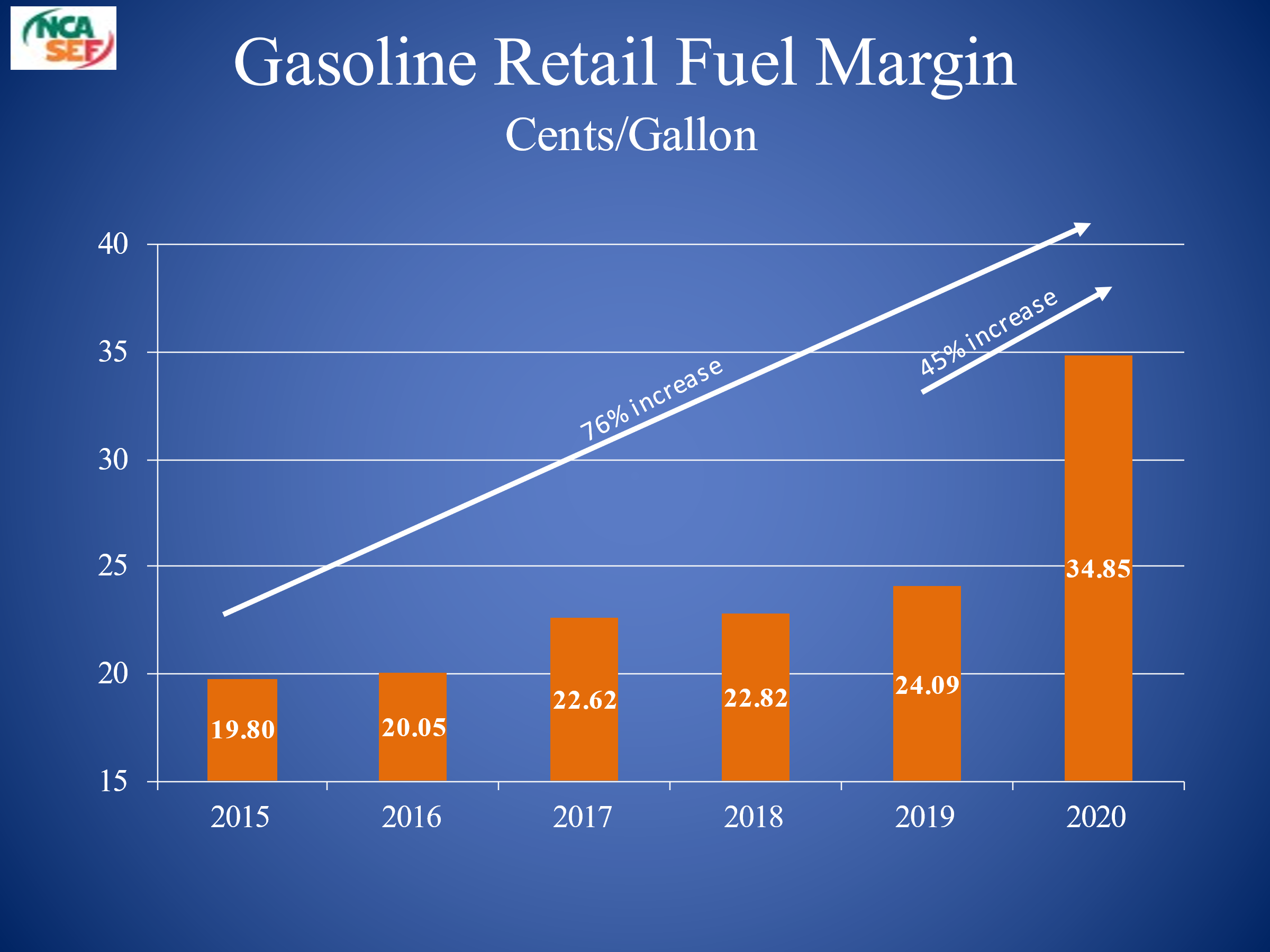 This chart summarizes the overall effect of SEI's pandemic-related gasoline pricing.

A second major area of concern is the apparent decline in merchandise gross margin in the system, which hampers franchisees' ability to compete for customers. Merchandise gross profit for all stores, both franchised and company owned, as a percentage of revenue was as high as 36 percent in 2007, fell from 34.8 percent in 2019 to 34.1 percent in 2020, which was the lowest blended merchandise gross margin percentage since least 2006.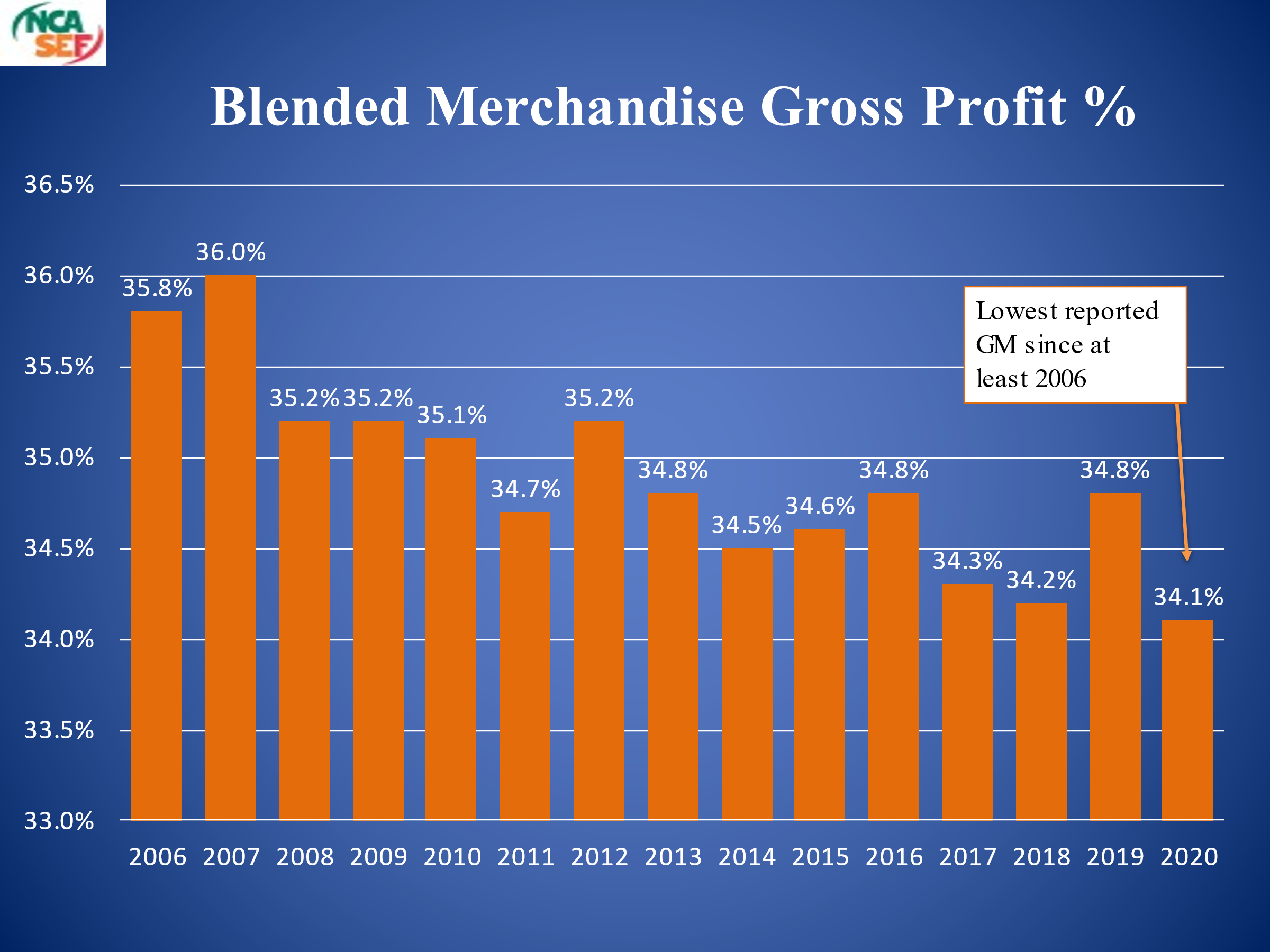 Interestingly, we have been tracking franchisee gross margin for many years, drawing that information from the footnotes to the audited financial statements of SEI contained within the franchise disclosure documents. We noted that franchisee gross margin had declined by nearly 1 percent from 2012 to 2018. But then a mysterious thing happened. The information was no longer to be found in the audited financial statements.
But once again, Seven & i sought to reassure investors by stating, "Negative growth in the gross profit on product sales was outweighed by an increase in the gross profit on gasoline sales, leading to an overall rise in the gross profit margin." Translation: SEI posted an increase in its corporate gross margin at the expense of consumers and franchisees. Reductions in merchandise gross margin and higher gross profit split to SEI translate to franchisees receiving a smaller piece of a shrinking pie, undermining their ability to expand their customer base, profitability and enterprise value.
A third area of concern with the Speedway transaction was how it was financed. According to published reports, SEI's parent company made an equity infusion into SEI of approximately $8 billion itself borrowed funds. On top of that, SEI issued unsecured notes in the amount of $11 billion with maturities ranging from a short term 2022 to a long term 2051, and with interest rates topping out at 2.8 percent. Franchisees in any system should be wary of a franchisor that increases its leverage, particularly one that is a subsidiary of a publicly held company. As of December 31, 2019, SEI's long term debt was less than $3 billion and its interest cost about $99 million. This new debt and the related interest cost will increase substantially in 2021 which may create more pressure on SEI to create yet more cash flow.
A fourth concern is that the Sunoco and Speedway transactions have changed the character of this system, which previously was overwhelmingly dominated by franchised operations as opposed to company owned operations. Although we do not yet have store count data as of end of 2020, perhaps for the first time in the history of the system nearly 42 percent of all locations are company owned. This change, together with the challenges of integrating the Speedway stores into the system, may result in a shift of focus away from franchises. This may also reflect an overall change of alignment in long term corporate thinking about the importance of franchisee investment and participation in the system.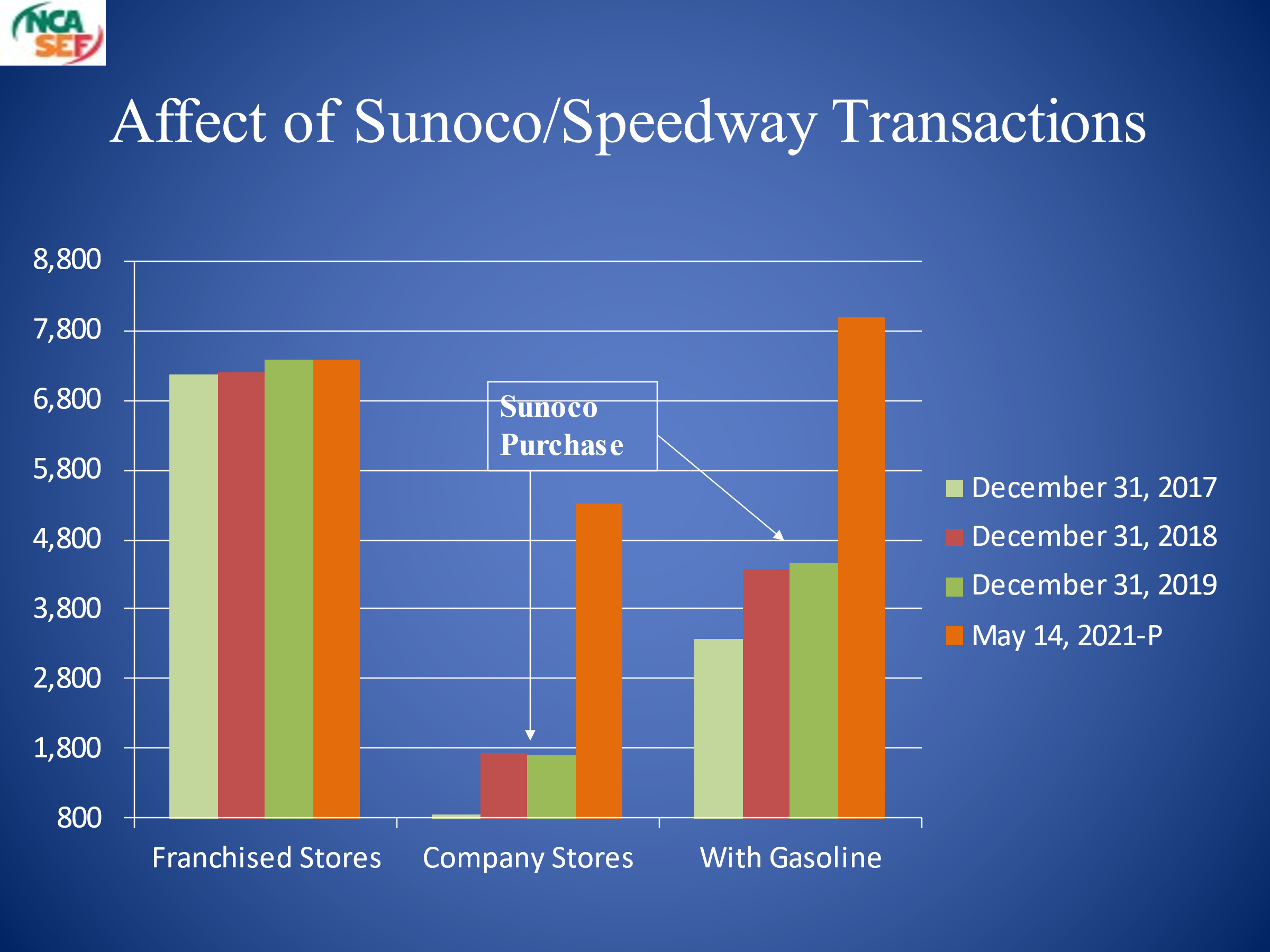 The National Coalition's role includes keeping franchisees as fully informed as possible as to what is happening in the system and what is likely to happen in the future, and which may affect their livelihoods and the value of their investments in the system. If and when SEI offers these Sunoco and Speedway locations to franchisees, we hope they will do their due diligence carefully. Only by being vigilant and factual can franchisees make informed decisions about whether and to what extent they see these changes as part of a larger, and perhaps concerning, picture.