August 1, 2021
Time For Transparency
By Eric H. Karp, ESQ., General Counsel To NCASEF
"The single most important ingredient in the recipe for success is transparency because transparency builds trust."
These are the prophetic words of Denise Morrison spoken in 2017 as the CEO of Campbell Soup Company, who radically changed the culture of the enterprise by emphasizing ingredient transparency. She was at the cutting edge of the philosophy that if customers know where their food comes from, they will trust the product more and thus buy more of it. She even created the website https://www.whatsinmyfood.com. Her approach transformed the company and not incidentally, doubled its stock price.
Since January 1, 1979 every franchisor in the United States has been required to furnish a franchise disclosure document (FDD) to a prospective franchisee. This document must contain a substantial amount of information regarding the franchise opportunity. The goal of the FDD is to allow the prospective franchisee to make an informed decision about whether or not to invest. The document must be complete and accurate in all respects. In this respect, the FDD is about selling a product, in this case a franchised business. But the principles of transparency and trust advanced by Denise Morrison with respect to canned soup applies with equal force to the sale of a franchise.
This summer, the National Coalition conducted a survey of franchisees in the system resulting in responses from franchisees who own more than 1,100 stores. Seventy-one percent of the respondents said they had been franchisees for at least 10 years. More than three-quarters of franchisee respondents disagreed with the statement, "7-Eleven trusts its franchisees." The same percentage of respondents indicated they do not trust SEI. When asked if they thought SEI executives were honest and ethical, 74 percent disagreed. For comparison, in the National Coalition's 2018 survey of franchise owners, 64 percent disagreed with that statement.
What has 7-Eleven, Inc. learned from the visionary corporate executive, Denise Morrison? Is the company transparent with its prospective and current franchisees and does it aspire to be trusted by them? When it comes to information provided to existing and prospective franchisees, the answer is sadly, not very much.
Here are some specific examples.
In 2018, we wrote to the United States Federal Trade Commission to inform that agency that the financial performance representations (FPR) in Item 19 of the FDDs of SEI were incomplete and misleading. Those FPRs included what the franchisee could be expected to assume was a complete profit and loss statement for the stores in a specific market. The FPR provided components of sales and the franchisees' gross income after the gross profit split with SEI. It also provided a total of average selling expenses and general and administrative expenses, but failed to do the math by subtracting those expenses from the gross income.
In the case of the bottom third of the performers in one particular market, the FPR indicated that the franchisees' average gross income was $208,903 and the total average selling expenses were $161,881, which would seemingly represent average net income to (and before compensation to) the franchisees of $47,022. However, the FPR went on to state that franchisees reported other general and administrative expenses with a high of $81,641, a low of $75, and an average of $12,581. As can be seen from the foregoing computations, the high end of the administrative expenses would put stores in the bottom third in the red by more than $34,000, before any payment or compensation to the franchisee owner.
We also pointed out the FPR contained three lines for store manager payroll, bonus and taxes, but no information regarding compensation for that essential position. Each of the lines was listed as a zero. The expenses presented were thus grossly misleading because no store can act without at least one manager.
Did SEI respond by remedying these defects and providing a full, complete and thoroughly transparent average profit and loss disclosure? Did SEI dispute the accuracy of our observations and conclusions? To the contrary, it dispensed with providing the kind of profit and loss statements that it had disclosed for many years and replaced it with disclosures limited to total sales, gross profit and gasoline commissions for a particular market. In the context of a system where gross profit appears to be on a downward slope and employee wages are trending in the opposite direction, many franchisees are rightfully complaining about declining profitability. In that circumstance, it is deeply troubling that SEI did not opt for transparency but for opaqueness, eliminating all disclosures relating to net profit.
Unfortunately, SEI has chosen the same path with respect to what it chooses to report about franchisee gross margin. For many years we have been able to discern the national average franchisee gross margin, not because SEI was disclosing that information as part of its FPRs. Rather, we were able to glean that information from the notes to the audited financial statements of SEI which are also part of the FDD. One of those notes routinely disclosed the total of all franchisee merchandise sales, cost of goods sold, and franchisee gross profit dollars, from which we could compute gross profit as a percentage of sales. Here is one example of that information taken from the 2018 franchise disclosure document.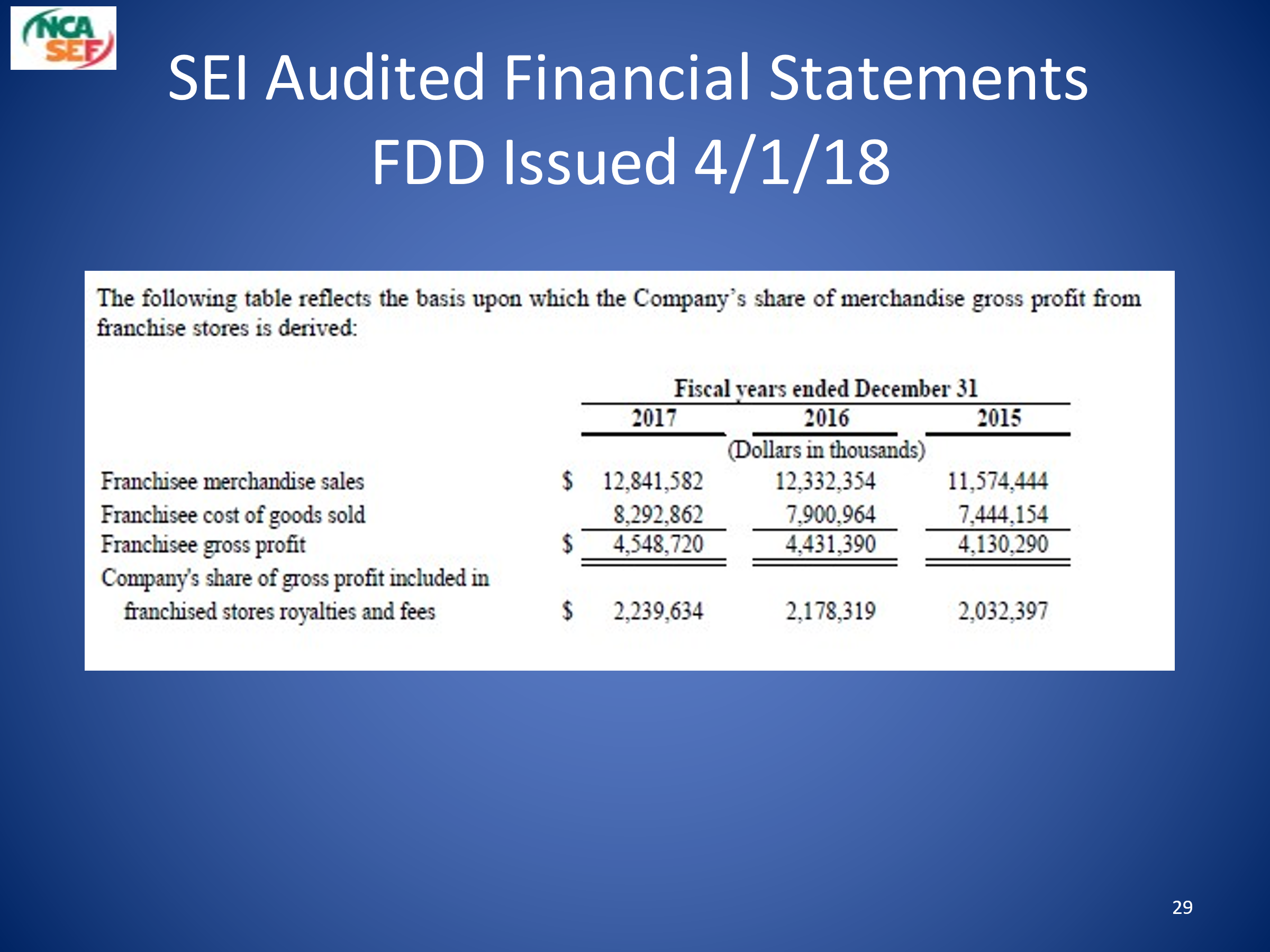 From those same audited financial statements, we were able to compute the gross margin achieved by company-owned stores with data taken directly from the profit and loss statements. This led us to make two important observations. First, the gross margin of franchised stores as reported by SEI consistently outperformed corporate stores. Second, franchisee gross margin was on a downward trend. For example, franchisee gross margin in 2012 was 36.24 percent but by 2018 had dropped to 35.32 percent. The only year between 2012 and 2018 that year-over-year franchisee gross margin did not go down was 2016. At the 2021 National Convention, we presented the following slide which shows the comparative gross margin of franchised and company stores for 2012 through 2020.

You may notice that this slide contains no data for franchisee gross margin in 2019 or in 2020. Instead, a question mark appears in the spaces where that data would be recorded. The reason for this is that SEI's audited financial statements no longer contain information regarding franchisee gross margin. While we have no direct evidence that the absence of that information is the result of direction by SEI to its independent auditors, we will let individual franchisees make their own judgment of why that information is suddenly no longer available.
A clue to the SEI motivation for doing so can be found in disclosures made by its publicly held parent company regarding so-called blended gross margin of both company-owned and franchised stores. As illustrated by the following slide, the blended gross margin of the system for 2020 was just 34.1 percent, the lowest gross margin since at least 2006 and possibly in the entire history of the system. On top of that, the parent company has projected a further decline in blended gross margin to 33.7 percent in 2021. Our approximation is that a 1 percent drop in gross margin translates to a loss of approximately $177 million of gross margin.

SEI's response to perfectly legitimate complaints from franchisees regarding gross margin and profitability are met with the statement that since SEI shares the gross profit with its franchisees, it is highly motivated to increase that gross margin. While this statement has superficial appeal, the fact is that SEI has for many years been transforming itself into more of a gasoline company than a convenience store enterprise, illustrated by the fact that in 2020, only 10 percent of its gross revenue came from its share of that gross profit split, with nearly 60 percent of its revenue derived from gasoline sales. These figures do not include the locations acquired in the Speedway transaction, which closed in May of 2021. At this point, we calculate that 62 percent of all locations in the system have gasoline.

Finally, the gross profit associated with fresh food and hot food has been the subject of much discussion over the last several years. In its briefing to shareholders, the parent company of SEI described its Medium Term Plan as including increased collaboration, joint product development, and other measures to create a single team between the United States and Japanese 7-Eleven stores. The most recent data available indicates that the Japanese stores drive nearly 30 percent of their revenue from fast food and about13 percent from daily food. The U.S. stores on the other hand derive just 12.5 percent from fast food and 4.3 percent from daily food.

But the Japan 7-Eleven stores report that their gross margin on processed food is actually higher than it is for fast food or daily food.
One of the specific goals of the Medium Term Plan is to increase the revenue from fresh food in the United States to 20 percent. If the experience of the United States franchisees mirrors that of those in Japan, this will result in a decrease of gross margin, without considering the fact that the labor associated with selling fast food and daily food is much higher than that for processed food.
None of this information can be found anywhere in the FDD.
It is indeed unfortunate that the National Coalition has to play detective to find a fraction of the information that a company dedicated to transparency and building trust would provide on a regular basis.