2021 NCASEF Virtual Trade Show – Franchisee Registration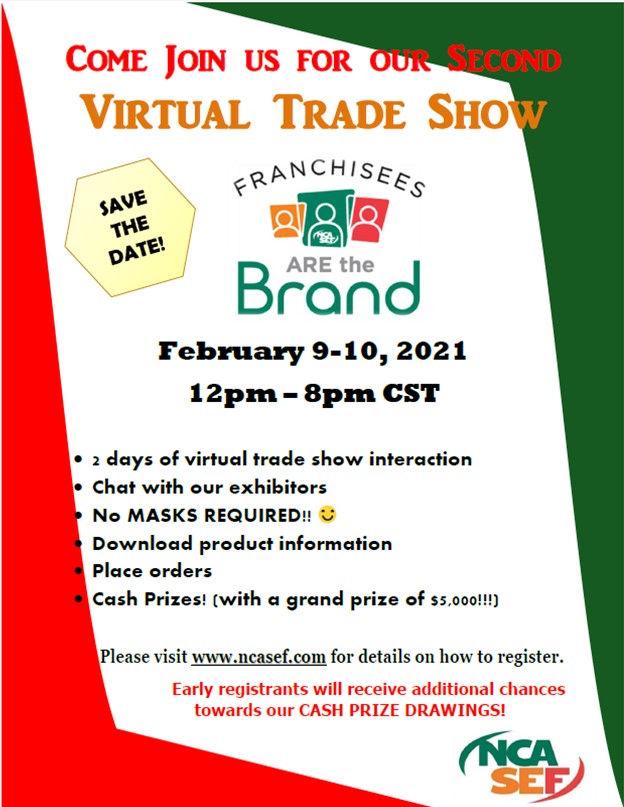 A Trade Show Featuring Great Products, Show Deals and a Grand Prize Giveaway!
We know you need an opportunity to interact with our vendor community. With that in mind, please take advantage of our two-day Virtual Trade Show at absolutely no cost to you! Last year's virtual trade show was our first effort with this new platform, and yet proved to be highly successful for our franchisees and exhibitors. With everyone having a better use of the tools available, we hope to have an even better turnout than the first one. Show our vendors your appreciation for their support by ordering their products, interacting with them virtually, and taking the time to give your store the advantages you will find in our second virtual trade show.
Every action you take virtually, will generate additional chances in this year's electronic raffle, for CASH PRIZES! CASH PRIZES and GRAND CASH PRIZE will be drawn shortly after concluding our event. Must be a franchisee to win. Winners will be notified and announced.
♦February 9-10, 2021 – 12pm-8pm CST♦