2019 NCASEF Exhibitor Registration

Join Us For The National Coalition's
44th Annual Convention and Trade Show
August 5-8, 2019
Trade Show: August 7-8, 2019
Long Beach Convention and Entertainment Center
Long Beach, California
Reach the Largest Convenience Store Buying Group in the Country
Sign up for the perfect opportunity to get your company and the latest products in front of the largest convenience store buying group in the country: 7-Eleven Franchisees! Become an exhibitor at the two-day NCASEF Trade Show, or gain more visibility throughout the four-day event. Our annual convention and trade show attracts 7-Eleven store owners from across the country in one venue, providing a unique opportunity to directly interact, network and sell to them. If you sign up for the convention preceding the trade show you will gain the full benefits of participation with more elbow-rubbing opportunities!
Bring Plenty Of Order Forms!
Last year's trade show was highly successful for our exhibiting vendors with record attendance by our franchisees, already the convenience store industry's #1 buying group! Franchisees again will be ready to buy at this year's show, which promises to be bigger and better than ever. So bring your best-selling products and special deals, and be ready to make an impression!
This is a Selling Show
This year's convention and trade show will be held at the amazing Long Beach Convention and Entertainment Center, an urban waterfront destination perfectly positioned in the nation's second largest metro market. Overlooking bustling Rainbow Harbor, Queensway Bay and miles of sandy Pacific Ocean beachfront, the Center sits in the middle of Long Beach's downtown waterfront. The Center features more than 400,000 square feet of flexible exhibit and meeting space, two theaters, four ballrooms, an arena and 34 multi-purpose meeting rooms.
General Exhibitor Information
Long Beach Convention & Entertainment Center
300 East Ocean Boulevard, Long Beach, CA 90802
Phone: 562-436-3636
Exhibit Show Hours
Wednesday, August 7, 11:00 a.m. – 4:00 p.m.
Thursday, August 8, 11:00 a.m. – 4:00 p.m.
Exhibit Booth and Staff Registration
Booth dimensions: 10′ x 10′
Space rental for 10′ x 10′ booth: $5,000 per booth.
Vendors purchasing trade show booths are entitled trade-show only access. Full individual registrations must be purchased.
Exhibitors must register ALL personnel who will be present at the convention. Full vendor registrations beyond those earned through sponsorship are $250 each. Trade-show-only staff are free, but must register and have a badge.
Full vendor registrations include access to all sessions (except franchisee only), to include, all breakfasts, Monday night welcoming reception, Wednesday evening cocktails with dinner and entertainment upon the historic Queen Mary along with an invitation to join our Thursday evening Grand Banquet and Charity Event.
Reservations For Exhibit Space
All orders for booth space are date-stamped and will be assigned on the first-come, first-served basis. Booth registrations received by July 16, 2019 will be included in the Exhibitor's List and Schedule of Events. Booths registered after that date may not be included in printed materials, but we still welcome your participation.
Set-Up and Dismantling Schedule
Exhibits can be installed from 8:00 a.m. to 5:00 p.m., Tuesday, August 6, and from 8:00 a.m. to 10:00 am on Wednesday, August 7. All exhibit materials must be removed from the Long Beach Convention Center trade show area immediately following the show on Thursday, August 8. All shipments must be prepaid.
Exhibitor Service Manual
An Exhibitor Service Manual with order forms for furniture, decorations, photography, electrical, labor, and shipping instructions will be provided by Freeman Decorating, Inc. upon receipt of your booth registration.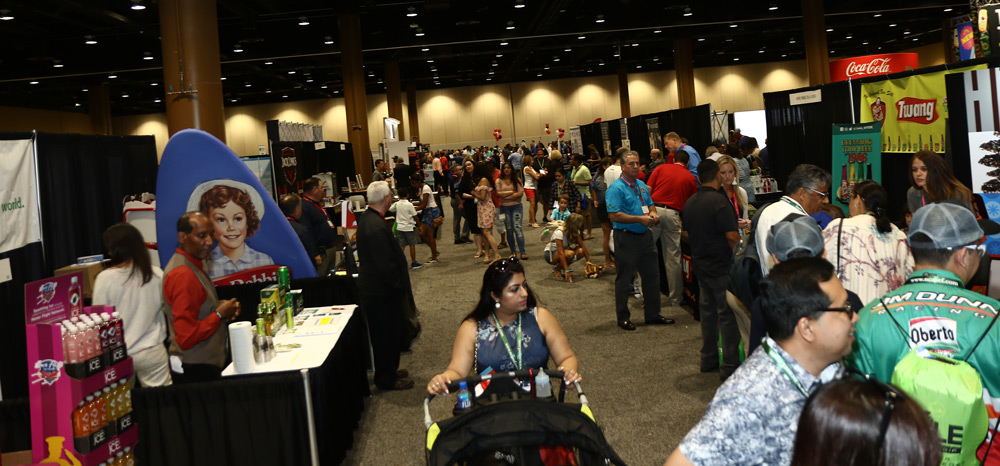 Airport Transportation
Karmel Shuttle Service is offering a special shuttle discount for NCASEF's 44th Annual Convention & Trade Show attendees–$4 off one way or $8 off round trip between airports (LAX, LGB, SNA) and the Long Beach area hotels.
Reservations are required. Click here to manage transportation to and from your hotel For reservations within 12 hours of your pick-up time, or to place reservations by phone, call toll free 1-888-995-RIDE (7433). USE PROMO CODE: "NCASEF19" to receive your discount.
Karmel Shuttle Service also offers Extreme Tours to various sites and attractions in Southern California. Learn more. Use PROMO CODE: NCASEF19 at the tour checkout page.
Hotel Reservations
While we are past our deadline, this hotel still has rooms, at a rate of approximately $225 per night.

---