Avanti Magazine

Avanti Magazine, the National Coalition's flagship publication, covers issues and opportunities affecting franchisees in their businesses, plus industry information and new product news.
Through columns by National Coalition officers, franchisees and our vendor partners, and various departments, Avanti provides an organized look at the convenience store industry for 7-Eleven franchisees.
Departments include:
Member News—industry news and 7-Eleven specific information of interest to franchisee members;
Tobacco Update—the latest tobacco legislative news;
7-Eleven, Inc. News—information specific to 7-Eleven;
Vendor Focus—new product news and information from our vendors/suppliers; and
Avanti Calendar—a listing of all NCASEF and regional FOA meetings and events.
Avanti is published six times per year, and is sent to all 6,294 7-Eleven franchised stores. All franchisees and vendor partners are invited to submit articles and other information for publication.
All manufacturers, service companies, and other vendors are invited to advertise and submit information about new products and promotions.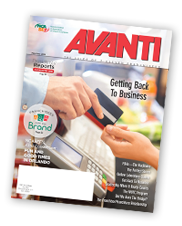 For information, contact Sheldon Smith at 215-750-0178 or
Click here to view Avanti's May/June 2018 issue.
View Avanti's March/April 2018 issue here: https://issuu.com/avantimag/docs
To download a pdf copy of Avanti's JanuaryFebruary issue: JanuaryFebruary 2018.pdf
Download a copy of Avanti's 2018 Rate Card in pdf format.

Avanti Article Archive
| | |
| --- | --- |
| FOAs—The Backbone Of The Franchisee Community | June 1, 2018 |
| The Perfect Storm | June 1, 2018 |
| Resolution Of Outlaw Laboratory Claims | June 1, 2018 |
| It's Time to Get Back To Business | June 1, 2018 |
| Leadership… When it Really Counts | June 1, 2018 |
| Did We Burn The Bridge? | June 1, 2018 |
| The Remaking Of A Coalition | April 1, 2018 |
| The Thought Behind The Convention Theme | April 1, 2018 |
| 7-ElevenNOW Program Amendment – More Questions Than Answers | April 1, 2018 |
| Unmasking the Elusive SSI and NRI | April 1, 2018 |