March 1, 2023
Thoughts While Shaving
By Eric H. Karp, Esq., General Counsel To NCASEF
In this message, I pay homage to the late and great Boston Globe sports columnist and editor Ernie Roberts, the progenitor of "Thoughts While Shaving." As a teenager, I very much looked forward to his columns on the left-hand side of the first page of the sports section, because they contained relatively short stories about a variety of different subjects related to the Boston sports scene, at a time when the perennial NBA Champion Boston Celtics made the news, while our other sports teams languished.
So it is with 7-Eleven and it's publicly held parent company, Seven & i. The past several weeks have seen news and public disclosures on a variety of fronts which have the potential to affect U.S. franchisees on both a long-term and short-term basis.
Merchandise Gross Profit
Merchandise gross profit for SEI stores for calendar year 2022 was 34 percent, down from 34.2 percent the year before. In fact, this is the lowest merchandise gross profit reported since at least 2006, the first year that this statistic was disclosed. Merchandise gross profit was 36 percent in 2007 and last exceeded 35 percent in 2012.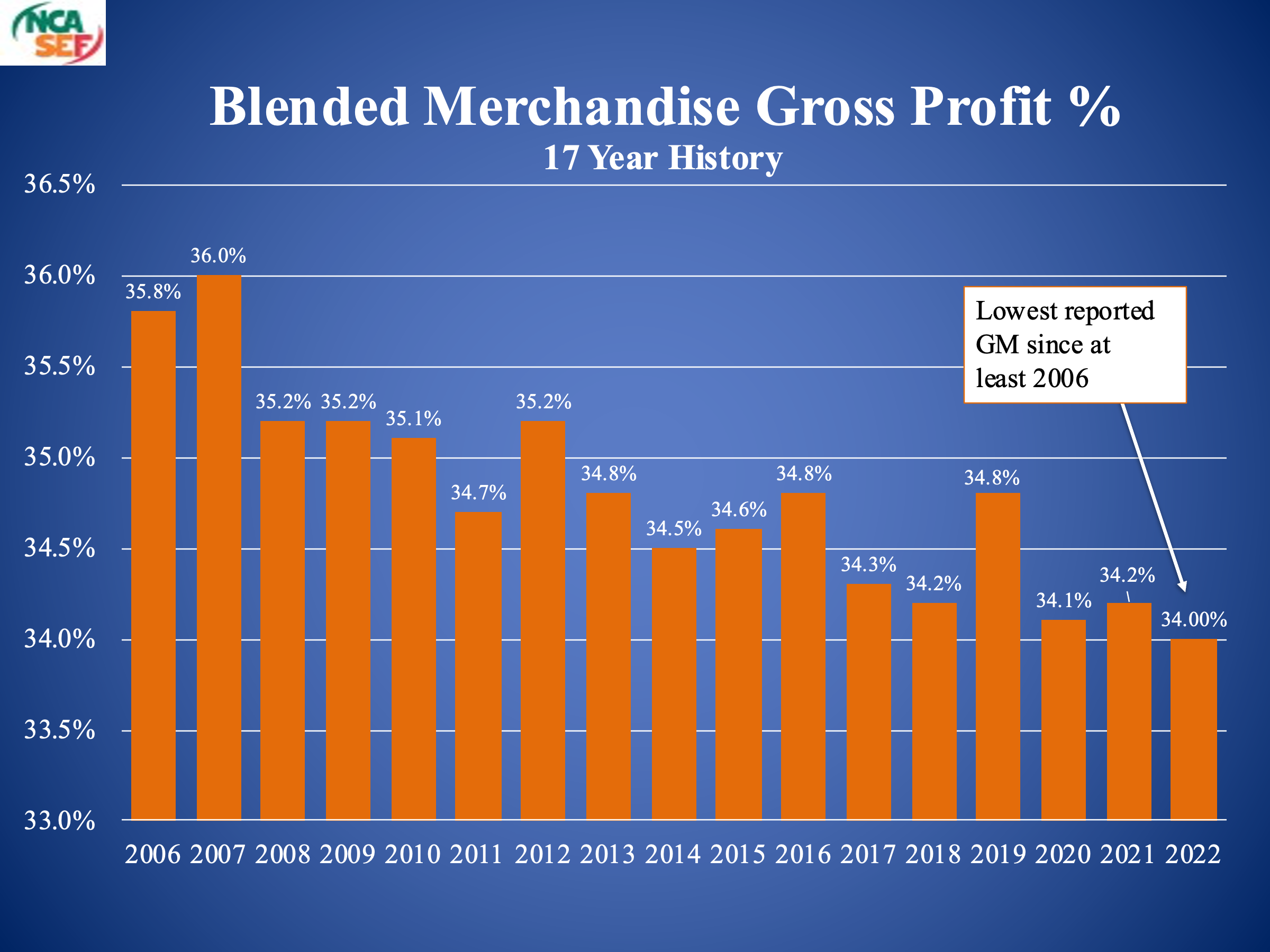 These numbers are blended, which is to say that they include both company owned and franchised stores. SEI last published merchandise gross profit for franchised stores in 2018, following a nearly 1 percent decline in franchisee merchandise gross margin from 2012 to 2018. Previous public disclosures by SEI's parent company suggested that the merchandise gross profit in the acquired Speedway stores was lower, which may have been reducing the systemwide average. But there has been more than enough time for the company to adjust and take advantage of the opportunity.
SEI often and correctly points out that sharing gross profit aligns the interests of franchisees and the franchisor. But declining gross profit, together with the increase of SEI's share of that net profit as reflected in the so-called 2019 form of franchise agreement, should be of concern because it undermines the gains reflected in same-store sales increases.
Retail CPG
SEI's parent correctly summarized the financial results of SEI for 2022 as follows:
"A decrease in gross profit on merchandise was outweighed by growth in gross profit on fuel, leading to a year-on-year increase in the overall gross profit margin factor."
"Strong growth in operating income through increased fuel GP led by historical CPG and accelerated fresh food and PB sales."
That "historical CPG" is illustrated by the following, which demonstrates that fuel margin has more than doubled since 2015. And as every franchisee knows, unlike merchandise gross profit, franchisees do not share in this bounty, but rather receive a fixed commission of 1.5 cents per gallon. For perspective, in 2015 and 2016, franchisees received approximately 7.5 percent of the retail gross margin; by 2022, that percentage was more than cut in half to 3.5 percent.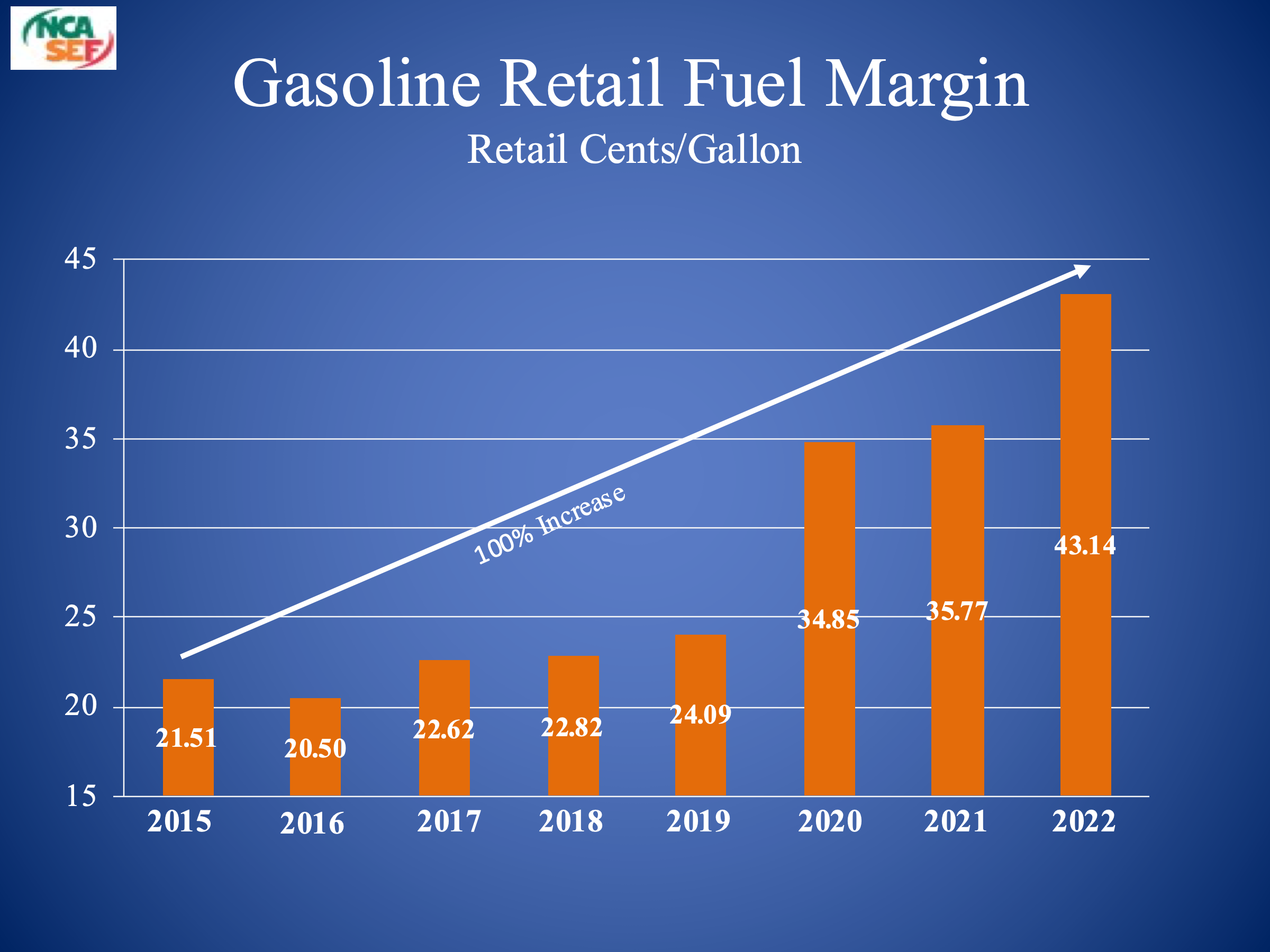 SEI's total gross profit from the fuel segment of its business increased by more than $1.8 billion in 2022, or 46 percent over the previous year. The extent to which SEI is at least as much a gasoline retailer as it is a merchandise retailer is shown by the fact that in 2022, more than 78 percent of its revenue came from the sale of gasoline and just 4 percent from franchisees.
Electric Vehicles
Given the heavy reliance of SEI on gasoline revenue and profit, illustrated most prominently by its acquisition of the Sunoco and Speedway chains, we are concerned about the long-term prospects for gasoline powered automobiles.
According to InsideEVs.com:
"Out of 1.24 million new light vehicles registered in January 2023, some 87,708, or 7.1 percent were all-electric. That's a 74 percent increase year-over-year and a noticeable change, compared to a 4.3 percent share in January 2022. The 7.1 percent share is also a step change from 5.6 percent in the 12 months of 2022."
"It's clear that the battery electric vehicle (BEV) segment is booming, partially through organic growth and partially through the Inflation Reduction Act of 2022 (IRA), which brought back the $7,500 federal tax credit eligibility for Tesla and General Motors."
"Another reason why the market surged is price cuts introduced by some of the manufacturers (Tesla was one of them)."
Fortune Business Insights projects that the sale of electric vehicles will experience more than a 25 percent compound annual growth rate through 2028, at which point sales will reach more than $138 billion. Bloomberg reports on projections that EVs will account for 50 percent of all new vehicle sales by 2030. And the federal government has recently proposed new measures to change the way mileage standards are computed for electric vehicles as a way of spurring sales and incentivizing manufacturers to produce lower cost electric vehicles.
ValueAct
This activist investor firm continues to put pressure on the management of the parent company of SEI. It holds a 4.4 percent stake and has been pressuring for change. In the run up to the annual shareholders meeting scheduled for May 25, ValueAct is pushing for a spinoff of the convenience store business into a standalone publicly held company or a sale of the entire company. It is also seeking to replace four board members. ValueAct has recruited two other institutional investors to its cause, Artisan Partners and Dalton Investments.
"A rational and experienced board of directors would understand their fiduciary duty and spin off the Seven Eleven business to existing shareholders," said James Rosenwald, chief investment officer of Dalton Investments. "The market would likely value the new spin off at more than the entire company today."
As I have noted before, these investors are not quarrelling with the financial performance of the convenience store business. Rather, they believe that the other segments of the conglomerate are dragging down the value of the company and hence its stock price, which has perennially underperformed its peers and the market as a whole. I bring these matters to your attention because these investors hold large stakes and are very persistent. And any major change in the corporate structure of the parent company could have important consequences for every franchisee in the United States.
Conclusion
With apologies to Ernie Roberts, these four matters may seem disparate and unconnected, but they are all closely interrelated because each one of them has the potential to materially impact the profitability and value of every franchised location in the country. It is for this reason that the National Coalition strives to be fully informed by monitoring all publicly available information and keeping its franchisee constituents in the know.