January 1, 2019
Store Level Economics – Looking Back and Looking Forward
ERIC H. KARP, ESQ., GENERAL COUNSEL TO NCASEF
SEI, having placed a figurative gun to the head of thousands of hard-working franchisees, and having succeeded in forcing them to sign an early renewal franchise agreement, cannot escape a close examination of what that agreement will do down the road to store level economics. As Supreme Court Justice Louis D. Brandeis once said, "Sunshine is the best of disinfectants."
The 2019 franchise agreement transfers many categories of costs, expenses and charges from the franchisor to the franchisee. It is a Sword of Damocles hanging over the head of franchisees as they consider not only these additional costs and expenses, but what will happen when the so-called rate lock expires. In order to put these concerns in perspective, we did a deep dive into publicly available documents, including those filed with the U.S. Securities and Exchange Commission when SEI was a public company, as well as the extensive materials available to us by the publicly held parent company, Seven & i Holdings. You can find these materials at https://www.7andi.com/en/ir/.
We have often said in this space that the Graduated Gross Profit Split on Steroids means what SEI takes under that formula is a larger slice of a shrinking pie. As the chart below illustrates,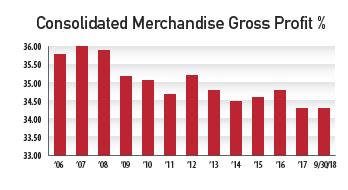 consolidated (both franchised and company-owned stores) merchandise gross profit in the system reached 36 percent in 2007. Over the ensuing 10 and three-quarter years, with a few upticks along the way, consolidated merchandise gross profit dropped by 1.7 percent of gross sales to 34.3 percent. That 1.7 percent of gross sales, which is unlikely to ever be made up, represents tens of millions of dollars of lost gross margin to franchisees every year. And with the 2019 agreement reciting that SEI will not assure you that it will get the lowest possible cost of goods sold, we see this as a deeply concerning development.
Another concerning set of statistics are shown without apology or embarrassment on page 12 of the parent company's Presentation Materials for its third quarter of fiscal 2019, entitled Financial Results Presentation for the Nine Months Ended November 30, 2018, issued January 10, 2019. The results are summarized in the chart that follows.
Commencing with the first quarter of calen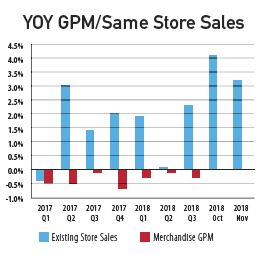 dar year 2017, same-store sales have bounced around from a reduction of 0.4 percent to an increase of 4.1 percent in October 2018. However, for seven consecutive quarters, store level gross margin decreased, spiking with a 7 percent reduction in the fourth quarter of 2017. While samestore sales apparently rose by 4.1 percent and 3.2 percent in October and November 2018, respectively, store level merchandise gross profit numbers have not been published for those months. Conspicuously absent from the presentation was any sense of urgency or any specific steps that might reverse trends.
As you undoubtedly know, SEI's parent company has been on something of a buying spree over the last several years, culminating with its $3.3 billion acquisition of nearly 1,100 Sunoco stations. The profile of these locations are somewhat at odds with the typical 7-Eleven store, in that their average number of gasoline gallons pumped is approximately 45 percent higher than franchise stores. On the other hand, merchandise sales are slightly lower, as is merchandise gross profit. The take away is that SEI is willing to spend literally billions of dollars on new locations while perfectly willing to suffer the closing of marginal stores—251 stores in the 12 months ended February 28, 2018 and is projected to close 370 stores in the fiscal year ended February 28, 2019—not to mention the deterioration of other stores badly in need of refurbishing and reinvestment.
The Cap Ex chart demonstrates that for the years 2006 through 2011, SEI consistently devoted more capital expenditures on existing stores than in acquiring new stores. That trend reversed in 2012. Since that time, SEI has spent 250 percent more on new stores than on existing stores. The National Coalition has repeatedly requested that SEI substantially increase its expenditures on existing stores, including the replacement of worn out equipment, which only elevates maintenance expenses that are shouldered by franchisees and prevents franchisees from competing with the beautifully designed and gleaming new stores of the competition. Sadly, all of these completely reasonable requests have fallen on deaf ears.
Experienced executives of other franchised companies have long recognized that if store level economics do not make sense, franchisees will not expand their investment in the system, and will not recommend entry into the system to their friends and relatives. Sadly, it seems that SEI either does not recognize this elementary principle or believes that franchised store level economics are somehow not relevant. Does SEI have a long-term undisclosed plan? If so, is that plan to hold onto just enough of the franchise community until technology can make them irrelevant? Will third party delivery services and drones sap revenue from franchise stores? Are stores without employees a model of the future? Will the 7-Eleven system be recognizable in 10 years? Will goodwill value in stores become a myth?
For these and literally dozens of other existential questions about the future of the system, we continue to wait for an answer. To SEI we simply say, our door is always open to real discussions based on mutual respect and transparency.