Members & How to Join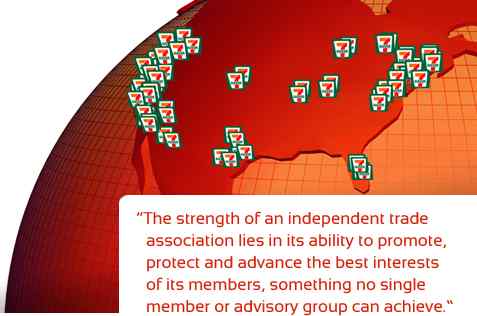 Listed below are all the 7-Eleven Franchise Owners Association members of the National Coalition. Franchisees must become members in a local FOA to become a member of the National Coalition. To join, contact the FOA president closest to you. If you cannot find the owner's
association closest to you, contact nationaloffice@ncasef.com for more information. We welcome your participation!


Franchise Owners Association Members
| | |
| --- | --- |
| Alliance of 7-Eleven Franchisees FOA | Sajid Ahmed, President |
| | Rehan Hashmi, Vice President |
| Bakersfield FOA | Yogi Solanki, President |
| Baltimore FOA | Barbara Graham, President |
| | Steven Tizard, Vice President |
| Cal-Neva FOA | Kenneth Smitreski, President |
| | Sam Singh, Vice President |
| Central Florida FOA | Michael Jorgensen, President |
| | Fari Ishani, Vice President |
| Central Texas FOA | Vikas Sharma, President |
| Central Valley FOA | Jivtesh Gill, President |
| | Haneshinder Chauhan, Vice President |
| | Sukhi Sandhu, Vice President |
| Chesapeake Bay FOA | Brett Creekmore, President |
| | Gerald Masters, Vice President |
| Chesapeake Division FOA | Ron Boyles, President |
| | Amit Dhanda, Vice President |
| Chicagoland FOA | Ketan Patel, President |
| | Nick Patel, Vice President |
| Columbia Pacific FOA | Harbhajan Ghotra, President |
| | Stan Singh, Vice President (North) |
| | Balwir (Goga) Julta, Vice President (South) |
| Delaware Valley FOA | Manzoor Chughtai, President |
| | Bilal Barqawi, Vice President |
| East Coast FOA | Vatsal Chokshi, President |
| | Dhananjay Patel , Vice President |
| Eastern Virginia FOA | Romy Singh, President |
| | Sanket Acharya, Vice President |
| Greater Bay FOA | Manjit Purewal, President |
| | Satinder Gill, Vice President |
| Greater Los Angeles FOA | Kathy York, President |
| | Jas Dhillon, Vice President |
| | Jaspreet Dhillon, Vice President |
| | Kuljeet Nijjar, Vice President |
| Greater Oregon FOA | Naeem Khan, President |
| | Ravinder Waraich, Vice President (North) |
| | William Huffman, Vice President (South) |
| Greater Seattle FOA | Ajinder Handa, President |
| | Dilbag Singh Rai, Vice President |
| | Chander Shekhar , Vice President |
| Joe Saraceno FOA | Mohinder Mattu, President |
| | Gurmeet Waraich, Vice President |
| Kansas City FOA | Faisal Asad, President |
| | Khalid Asad, Vice President |
| Metro New Jersey FOA | Hari Patel, President |
| | Jayesh Patel, Vice President |
| Midwest FOA | Jim Bayci, President |
| | Nisar Siddiqui, Vice President |
| New England FOA | Dennis Lane, President |
| | Mark Guest, Vice President |
| | Stephen Jones, Vice President |
| Northeast FOA | Mohammed Malik, President |
| | Tahir Chaudhary, Vice President |
| Northern California FOA | Raj Brar, President |
| | Harman Chahal, Vice President |
| | Pirthvipal Gill, Vice President |
| | Prithvipall Singh Gill, Vice President |
| Pacific Northwest FOA | Navdeep Gill, President |
| | Roger St. George, Vice President |
| Phoenix FOA | Jerry Sahnan, President |
| | Arshdeep Bhela, Vice President |
| Rocky Mountain FOA | Dave Harper, President |
| | Raymond Sandhu, Vice President (North) |
| | Jay Khan, Vice President (South) |
| Sacramento Valley FOA | Jatinder S Brar, President |
| | Harprit Dhillon, Vice President |
| | Iqbal Gill, Vice President |
| San Diego FOA | Bic Sidhu , President |
| | Sukhminder S Dhillon, 1st Vice President |
| | Robert Elkins, 2nd Vice President |
| San Fran/Monterey Bay FOA | Ann Sekhon, President |
| | Inderjit Sidhu, Vice President |
| Sierra FOA | Serge Haitayan, President |
| | Patrick Cummings, Vice President |
| South Florida FOA | Teeto Shirajee, President |
| | Eric Donihoo, Vice President |
| | Terry Hutchison, Vice President |
| South Nev/Las Vegas FOA | Kevin Lucero , President |
| | Harjeet Dhillon, Vice President |
| South Texas FOA | Jatinder Singh, President |
| | Eddie Alcantar, Vice President |
| Southern California FOA | Maninder Singh (Paul Lobana), President |
| | John Shin, Vice President |
| Suburban Washington FOA | Peter Gragnano, President |
| | Arvinder Makkar, Vice President |
| Texas FOA | Raj Singh, President |
| | Azar Saghir, Vice President |
| U. F. O. of North Florida and Palm Beach | Ed DeNorio, President |
| | Dhaval Patel, Vice President |
| UFOLI,NY FOA | Yousaf Naseer, President |
| | Basit Khurshid, Senior Vice President |
| | Syed Asad Ahmad, 1st Vice President |
| Utah FOA | Wallace Imamura, President |
| | PJ Clayton, Vice President |
| Washington FOA | Mark Chiochankitmun, President |
| | Abraham Habtemariam, Vice President |
| West Coast FOA | Balkar Singh, President |
| | Randeep S Dhami, Vice President |