Franchisee Convention Registration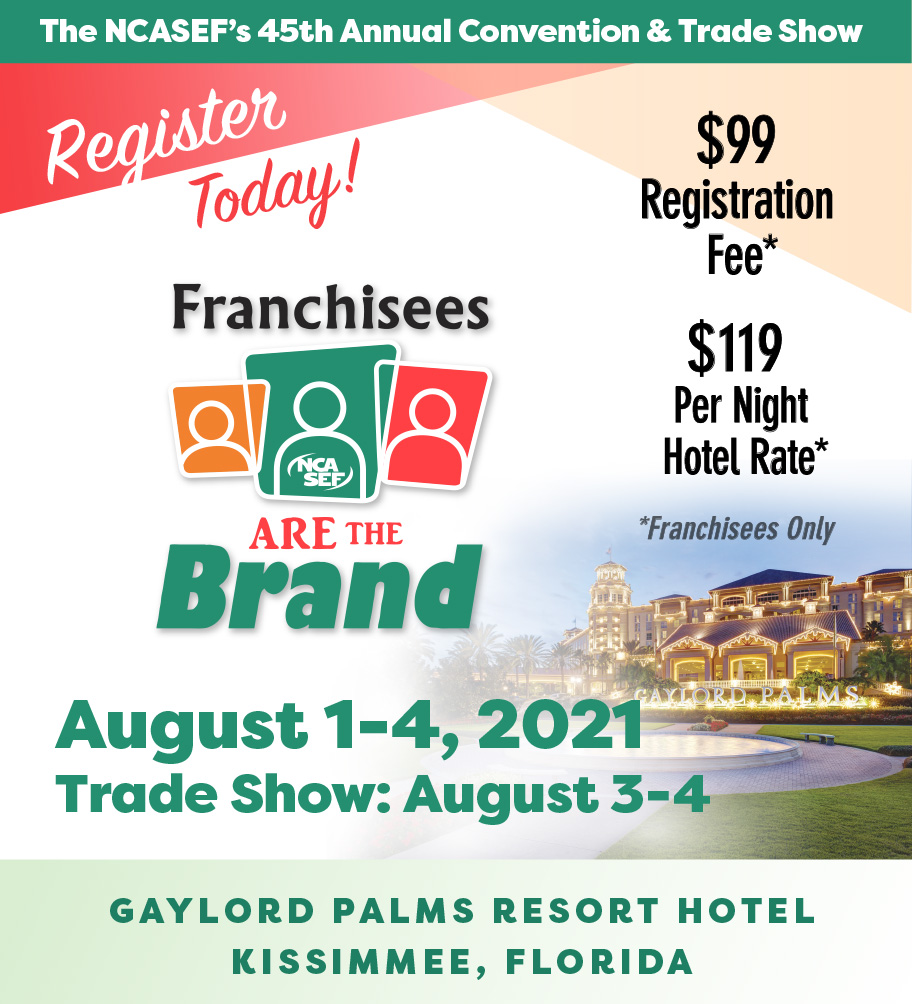 We invite you to attend the biggest NCASEF event of the year — the 45th Annual Convention and Trade Show! You'll have so many opportunities to network, discuss issues affecting your stores and find new ways to boost profitability. This year's event will be held at the Gaylord Palms Resort & Convention Center, located in Orlando, Florida. Just minutes away from plenty of fun and entertaining places to make this the perfect family getaway. And it's so affordable! The National Coalition will be subsidizing this event for franchisees, so rooms are only $119/night for the four nights of the convention and registration is just $99 per person. (Deposit will be at $179 rate. NCASEF discount will be shown on final hotel bill.)

Or call in reservations at 877-491-0442 and mention NCASEF Convention.
Hotel registration deadline: Wednesday, July 7, 2021*
*Rooms may not be available at this rate after July 7th. Please book

your

hotel room as soon as possible to ensure rates.
Please join us August 1-4 for networking, learning and fun with colleagues, friends and family!
We'll begin this year with a welcome reception on Sunday, August 1st.
On Monday, we'll begin with a General Session in the morning and later breakaway to enjoy an exciting offsite to the Kennedy Space Center. The Visitor Complex is organized into Mission Zones where attractions and tours are grouped. Learn about space exploration from the beginning to it's current ongoing missions. Visit U.S. Astronauts Hall of Fame, Heroes of Apollo, a Rocket Garden, see Astronaut Training Simulators with so much more to explore and experience! Rounding up the event with a 5 minute shuttle ride to the Apollo/Saturn V Center where we will be have dinner under a full-sized Saturn V rocket.
NCASEF Chairman, Jay Singh will begin this year's convention on Tuesday with the State of the Coalition address, followed by a Vendor Panel with the latest promotions, new products and trends from our valued vendors. Trade Show begins where you can check out the hundreds of booths featuring great merchandise, show deals and promotions and register to win this year's grand prize drawing for new automobile. The night closes with our Charity Night Gala with Live and Silent Auction and plenty of networking with colleagues, friends and vendors.
On Wednesday, we'll begin with breakfast and General Sessions, to include Legal Forum with Eric H. Karp, NCASEF General Counsel. Then attend the trade show and don't miss the Grand Banquet and Keynote Speaker. We will announce the winners of the franchisee and vendor recognition awards and will present this year's donation to Swim Across America as well as announce the winner of the Grand Prize Drawing for brand new automobile.
Registration deadline: Wednesday, July 14, 2021**
(**Please indicate if you will be joining us at the Kennedy Space Center on your registration. Badges will be given at onsite registration for entering events.)